22nd August, 2004
NSW State Road Championships
It was great to be racing in the sunshine (25C) after the cold weather in Melbourne. 5km after the start, five riders broke away from the field after I applied pressure up the climb. After the second time up the hill Christine Riakos and I were left. With 40k to go I attacked gaining 1min15sec on Christine with a group of three other riders chasing. Crossing the finish line on the bell lap I was spurred on by Pablo cheering. He had travelled all the way from Manly to East Kurrajong to see me race.
In 1985, Pablo had encouraged me to try to ride a road racing bike for the first time (albeit 2 sizes too big as it was borrowed from a friend) in Sydney at a New Years Eve X-Country Skiing party where they held a mini triathlon before the real party began.
Pablo laughs: "Kathy fell off at all the traffic lights on the way to Bobbin Head as her feet could only just reach the ground. Then on the hill on the way out of National Park as she left us all behind as she powered away. An hour later we had to send out a search party to find her as she was still lost cycling around the North Shore".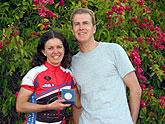 By coincidence, on the Friday before flying up here I had watched an inspirational movie on TV called 'Never Tell me Never' about Janine 'the machine' Shepherd's life (Australian XC Skier). Pablo (played by Joel Edgerton) and the guys at the XC ski party were in the movie. I thought about her courage and determination on the final lap and went on to win by 8mins. Fellow Victorian, Claire Baxter, sprinted well to get 2nd and Elizabeth Hickey (ACT) was 3rd after the group caught Christine with 12k to go.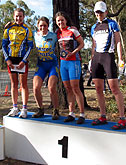 Clowning around on the podium.
L-R: 4th - Zoe Southwell (NSW), 2nd - Claire Baxter
(VIC), 1st - Kathy Watt (VIC), 3rd - Elizabeth Hickey (ACT).