18 December 2005 - Greater Dandenong Criterium
Mary Rogers rode strongly to win bunch sprint for 3rd place at the Greater Dandenong Criterium, an event which was run in support of the Amy Gillett Foundation.
17 December 2005 - Victorian Senior Track Championships
In her first track race for 5 years Kathy wins Victorian 3k pursuit Championship at DISC Velodrome. Kathy qualified fastest in 3m46.2s then defeated Monique Hanley (another girl from Warragul) in the final. Briana James defeated Bridie O'Donnell for the bronze. Andrew and Mick rode the sprint qualification with Andrew going through to the next round after riding 11.56secs.
Kathy was selected in Victorian Team for Australian Championships in February 2006 along with Katie Mactier, Rahna De Marte and Jessica Berry.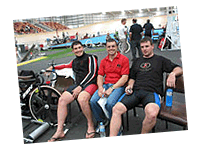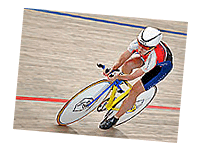 15 December 2005 - Christmas Party @ Kathy Watt Cycling HQ
Thanks to those of you who dropped in to the shop to celebrate some christmas cheer for 2005. We wish all our customers and friends a merry christmas and happy new year. Click to see pics
11 December 2005 - Commonwealth Games Selection Trials & Rnd 3 MTB National Series
Congratulations to Claire Baxter, winning selection to the Commonwealth Games MTB event.
The Lysterfield MTB course recently became a carnival park with a strong MTB theme. Run as a Commonwealth Games test event, the savanah was transformed into a mardi gras, with tents full of officials and MTB products, and the bush became a criss-cross of white bunting marking the track for the Games.
The Elite Women's event saw an unprecedented number of competitors, including Lisa Mattherson, twice Junior World Champion, Emma Colson, 2005 Australian Champion, and former AIS road rider, Naomi Williams. Naomi got of to a flying start, and was amongst the lead riders for the start loop. As the race turned right and up the hill for the first lap, Claire Baxter took the lead. Claire retained the lead throughout the race and won in what spectators describe as a steady, even-paced ride. "Jill" was following up in second place, but was swallowed up by other riders in the second lap. Emma Colson battled her way from fifth position into a convincing second place.
The start loop plus five laps was over in about one hour and forty minutes, although asked what she would have done differently, Claire replied "riden faster... in particular the technical sections and the sketchy, gravel corners." Baxter aims to take a further 30 seconds of her lap times in the lead-up to the Games.
Results:

Elite Women, 5 Laps, 29 Riders, 31.9km
1 Claire Baxter (Vic) 1.38.41
2 Emma Colson (Vic) 0.40
4 Imogen Smith (Qld) 3.32
5 Dellys Starr (USA) 3.58
6 Tory Thomas (Vic) 4.26
7 Niki Gudex (NSW) 4.35
8 Jill Burston (WA) 5.35
9 Sam Jesney (Tas) 7.58
10 Lee Shultz (Qld) 8.30

3rd/4th December 2005 - Tour of Bright
Two of our team competed at Tour of Bright. Mary Rogers came 2nd in the overall Sprint Classification and Stephanie Frawley, our newest member to the team came 2nd in the Time Trial. These were excellent efforts considering that racing on Day 1 was held in appalling conditions with constant rain and dense fog at the top of Tawonga Gap which tested all the riders.

27th November 2005 - Metropolitan Track Championship
Marc Prutton put in a great ride to win the Mens Scratch Race on the second day of racing at the DISC Velodrome.
26th November 2005 - Metropolitan Track Championship
Andrew Shannon rode really well in Mens Kilo to finish 2nd in 1m9.6s on the DISC Velodrome at Northcote. After qualifying 2nd fastest in the sprint, Andrew finished 3rd and Marc Prutton was 4th. Ian Smith was 3rd in 500m in the Masters time trial.
20th November 2005 - Bay2Bay Classic / Australian National MTB Series
Congratulations to Maryam Rogers who won the Bay2Bay 80km Classic Race. A well deserved win, and what a great trophy!
Australian National MTB race in Western Australia (Round 2)
Claire Baxter finished 3rd in the second round of the National Mountain bike series in Western Australia and is now in preparation for the selection trials for the Commonwealth Games Mountain Bike team to be held in December and January.
race report...
I arrived cool, calm and collected at 9:45am to ride a practise lap at the second round of the Australian MTB National round in Western Australia, expecting to race at 3:45pm. As I collected my race number, I learnt that the start was in fact 10:30am; classified information that was divulged only to a privileged few, and not to the web site designer of the Perth MTB club. So without having seen the track, I threw myself into the race, the plan being to learn the way on the first lap, the pass the field and win on the second lap. All was going to plan, she was in second place at the start of the second lap and ready to move into first place, when, of all things, I pulled the cleat out of my left shoe! So with the cleat jammed firmly into the pedal and no way of clipping in to balance through the technical downhills, or to pedal up the uphills, my plan, like my cleat set-up, fell to bits. However, I did manage a third place. I now have new screws in my cleats and a new plate in my shoe. Never again shall I be defeated by a couple of loose screws!
12th November 2005 - Mt William Grampians Classic
Kathy wins the inaugural Mt William Grampians 80km Classic from Ararat to the top of 12k Mount William Climb (7% gradient;Last 2k 16% Average/22% max Gradient). Ararat Cycling Club did a great job providing lots of Grampians accommodation packages, including wine to encourage women to take part in road racing (They have successfully run the Diamond Stakes Track Carnival for women for many years).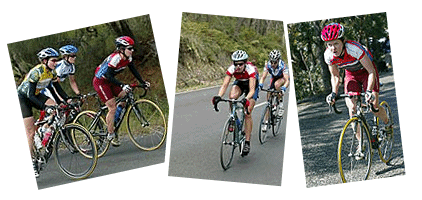 Results
1.Kathy Watt (KWPT) 2hr46m
2.Anna Sutton (NSW) +4m19
3.Claire Baxter(KWPT) +8m17
4.Alicia Evans +8m43
5.Helen Kelly (VIS) +9m36
6.Mary Rogers (KWPT) +17m44
7.Stefanie Frawley +20m48
more......
5th-6th November 2005 - De Bortoli Tour of Yarra Valley
Race Report by Claire Baxter.
Perhaps the most grueling of the Victorian club tours, the De Bortoli Tour of the Yarra Valley is best described as "hills, more hills and the occasional log-truck". The three stage tour saw more than half the Elite Women's field retire. In the words of Maryam Rogers, "you gotta love hills to ride De Bortoli!"
Stage 1 - Toolangi and Death Valley; saw the 24-strong-peleton splinter into more than four groups. An early break-away initiated by Kathy Watt and Claire Baxter on the descent after climbing Toolangi was hindered and then closed down by a lethargic log-truck. The narrow, winding descent made it impossible to overtake the oversized vehicle, and soon the peloton, albeit, with a much reduced number of riders, were back on, and determined not to let anyone else get away. However, a continous barrage of attacks soon saw Watt break away and power to the finish over a minute ahead of the pursuing peloton. Baxter finished in the chasing bunch. Rogers rode a strong race from start to finish, finishing in the second bunch, having lost the chasing bunch with only a few kilometers to go.
The money was on Watt for the second stage. A time-trialing machine; in the words of one spectator "Gee, she goes like a bullet". It was really a matter of how many minutes she would increase her lead in the GC. Watt won the 17.7km time-trial in 25.12, ahead of Baxter in 2nd place (26.21), and over two minutes faster than Jenny Macpherson (3rd).
Stage 3: Three laps of Panton's Gap, was hard before it even begun. Watt, who just seems to get faster as the tour gets longer and the hills get bigger, surged away from the peloton not long into the grueling 8km climb. A few tenacious souls gave chase, but staying on Watt's wheel on a long climb is easier said than done. As Watt's wheel disappeared into the distance, the peloton soon splintered up. The chasing group eventually whittled down into three fatigued individuals, but Watt didn't let up for a moment, finishing over 6 minutes in front of Baxter (2nd place). Rogers attacked and broke away from a pursuing group to finish in 6th place, over 7 minutes ahead of 7th place.
The overall standings were Kathy Watt as winner, 2nd place to Claire Baxter and Liz Hayman 3rd.
Watt carried the yellow jersey from start to finish and also took out the QOM, somewhat ironically, the QOM prize was a series of bike skills sessions donated by Kathy Watt Cycling to her club Blackburn who have done a great job organising this event for several years. Rather than attend her own skills session, Watt offered to donate the session to the 2nd place QOM, but Baxter only grinned and said "I'm a mountain-biker, what'll I do with an on-road skills session?". Perhaps learn to stay on Watt's wheel up a hill?
30th October 2005 - Mitta to Mount Beauty Mountain Bike Race
Claire Baxter won the Mitta to Mt Beauty Mountain Bike race in tough weather conditions. At Mt Beauty when it rains it's brutal. The cyclists suffered through rain, the track turned into a mud-path, and even the lead car was experienced difficulties before it skidded of the road and bogged itself into the bank. At the time of the presentation ceremony, the driver still hadn't made it back (on foot), and the van may still be there, blinking away, window-wipers still swishing. All the athletes made it home in slower than dry times.

This 55km course is one of the toughest on the MTB calendar. The route for the Mitta to Mount Beauty starts from the Mitta Caravan Park, climbs up the valley of Scrubby Creek (7km at roughly 6%) and crosses the north face of Mt Bogong (Victoria's highest mountain at 1986m) through Trappers Gap (10km at 5%), before descending along the valley of Mountain Creek with the last 10km being on the Kiewa Valley Highway before the finish by the swimming pool in Mount Beauty.

With 37km of dirt road, 18km of bitumen, 840 vertical meters of climb and 740 meters of descent, the Mitta is a unique scenic and riding experience. One of the most picturesque sights in mountain bike racing is when riders turn onto Scrubby Creek Rd and see the sight of rolling green dairy paddocks with the backdrop of a snow covered Mt. Bogong.
16th October 2005 - 210km Around the Bay in a Day (by Diane Roy)
It was with much trepidation that I set out on the 2005 ATB, my third time participating in the 210km ride Around the Bay in a Day event. The last time I participated in the event was in 2003 and the weather was so bad that I couldn't face another ATB in 2004. Once I had decided to do the 2005 ATB I asked my coach, Carey Hall, to put together a monthly program for me to make sure that I completed the 210km in the best time I could manage and that I could still walk when I got off my bike.

15th October 2005 - Australian Masters Games
Andrew Shannon has surprised everybody by winning the 2005 Australian Masters Games 2000m Pursuit in a personal best time of 2.25.53. After qualifying first, Andrew then stepped up and rode even faster to win the gold medal to win by six seconds over the ex-South Australian Pursuit Champion. Andrew also collected three silver medals in the 500m time trial, scratch race and sprint.

Ian Smith showed great fighting spirit to come back through the repechage rounds and win a bronze medal at the Australian Masters Games Sprint Championships. Ian also won bronze in both the 500m time trial and the scratch race.
14th October 2005 - Mount Dandenong Look Out "Dash for Cash"
Run in conjunction with the Mens Provincial Tour of Victoria the organisers held a "Dash for Cash" event from the town of Monbulk up the steep climb (called "The Wall" by cyclists) to Olinda and then to the top of the Look Out Tower where there are spectacular views of Melbourne. Claire and Kathy went hard early and by the steepest part of the climb they were the only two left. Kathy won and Claire came second.
Afterwards we enjoyed some coffee with some friends,Rod and Paul who came to cheerus on. While watching Simon Gerrans, Baden Cooke and the other guys complete their mountain time trial I heard one young boy say "Dad I'd like to do this event next year!" Despite the fact he was only 4yrs and had just got off his trainer wheels!! His Dad said "You might have to wait a bit." The next generation of riders inspired already.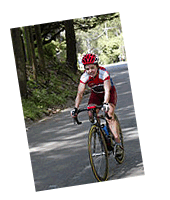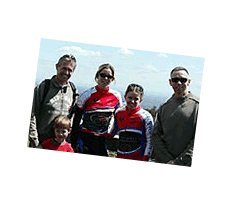 1 September 2005 -Australian Road Series results
Kathy wins Australian Womens Road Series for 2nd consecutive year with consistent performances throughout the season. David McKenzie won the Mens National Road Series.

Kathy Watt 970pts
Laura Bortolozzi 553 pts
Amanda Spratt 538pts
1st-3rd July 2005 - Kowalski Canberra Tour
Kathy won the 15km out and back time trial from Uriarra Homestead. On Saturday's hilly road race around the Cotter, Kathy outsprinted Amanda Spratt in a downhill finish. On Sunday riders needed long gloves as it was snowing at the start line, a very cold start ('0' degrees) and the dogs in the officials car were enjoying the heater. Kathy placed 4th in the sprint.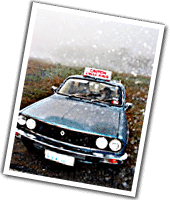 In the Overall classification Kathy was 1st, Amanda Spratt 2nd and Tiffany Cromwell 3rd. Ironically Kathy is looking forward to heading for the heat of Switzerland for the second half of the season to get away from this cold weather.
4th June 2005 - Preston Mountain Classic 90k Handicap
After winning this race overall last year (women and veteran men)I was keen to do well. The handicapper gave me a harder mark with some women starting 6mins ahead. Our bunch worked really well together and within 5k of the final 2k climb we had the frontmarkers to within 30secs. But as the hill approached we lost ground as some riders wanted to be fresh when they got there. So I accelerated away on the hill passing everyone in the front group except 4 in the final 10km. I was the Fastest Woman and John Marcan won the Overall Handicap.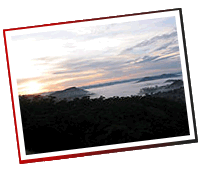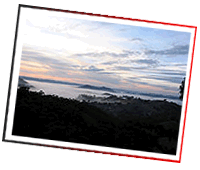 26th March 2005 - Andrew Shannon 'wins' Sid Patterson Wheel Race
Andrew Shannon took out the Sid Patterson Wheel Race at the inaugural event on the new DISC velodrome crossing the line ahead of VIS riders, Simon Clark, Daniel Thorson and Nic Sanderson. Andrew showed great stamina and courage, fighting it out for the nail biting win.